Welcome to the Thuringian Competence Network for Research Data Management
The TKFDM ("Thüringer Kompetenznetzwerk Forschungsdatenmagement") is a contact partner for researchers of all Thuringian universities and colleges as regards research data management. This encompasses all aspects of data handling that emerge during research.
The TKFDM connects the Research Data Management Helpdesks of the Thuringian universities (University Erfurt, Technical University of Ilmenau, Friedrich-Schiller-University Jena, Bauhaus-University Weimar) and provides its services to all Thuringian colleges. We offer consulting and training regarding all aspects of the topic research data. Please contact us!
The competence network was founded in October 2018 and is funded by the Thuringian Ministry for Economy, Science and Digital Society (TMWWDG) as part of the Thuringian Strategy for the Digitalisation of Colleges for 2 years with a seed funding. Furthermore, the Thuringian universities contribute to the funding of the competence network.
The coordination office of the competence network is located at the Research Data Management Helpdesk at the Friedrich-Schiller-University Jena.
Organization of Research Data with 5S Data!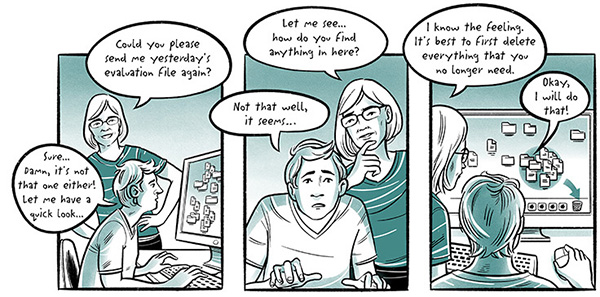 A new year has begun and we are dedicating January to spring cleaning; in particular, to cleaning up our own research data. For this purpose, we are organizing the 5S Data Week from Jan. 18 to 22 (CW 3), in which we will present one of the five 5S principles on each day and show its application to research data. The complete 5S Data model supports the organization of research data and makes it easier to maintain the created order permanently. TKFDM's first online Coffee Lecture, titled "5S Data: Organisation is not a 4-letter word!", presents all the steps of the model in a compact format. The other events in the Coffee Lecture series, with many other interesting topics related to data management, can be found here: Link.
Coffee Lectures 2021
In 2021 we will start an Online Coffee Lecture series, which we will hold monthly about various FDM-relevant topics!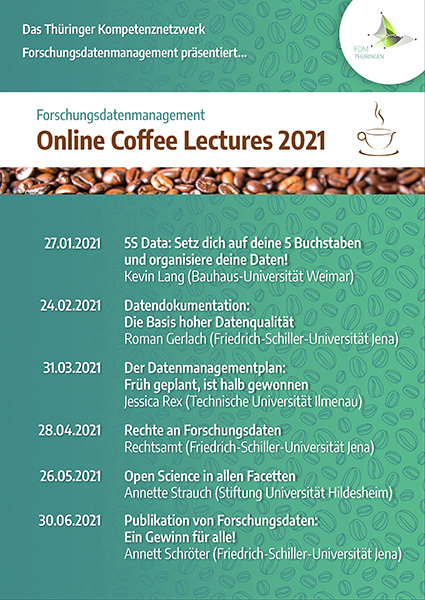 News
Fri 15. Jan 2021 14:00 Uhr
From January 18 until 22.01. the 5S Data Week takes place!
Wed 16. Dec 2020 10:00 Uhr
A poster summarizing the FAIRest DataSet competition.
Events